Join a Global Community of
Dancers and Healing Artists
Already Making an Impact and Income
from Their Soul Work!
If you'd like to become the expert in your own niche, create life on your own terms, become the leader you didn't find with the support of a global community of healers and artists, this is for you.
If you are a dancer, teacher, wellness coach or healing practitioner who is ready to help people connect and express authentically through the body, we'd love for you to join us!





The
Embodied Dance Teacher Training
is a
Global community
of dancers and healing artists who are learning to use
DANCE AS A HEALING ART FORM
and USING
CHOREOGRAPHY AS A HEALING TOOL
TEACHING others to make an IMPACT AND INCOME from their soul work
while healing themselves and their students through dance.
This is a SIX MONTH,
10 Module Online Teaching Immersion
(Go through the modules at your own pace)
.
​
 We meet once per week via zoom (three times per month) for 
Q and A, 
Class with Allison and 
Practice Teaching


You can also receive *THREE 1:1 support sessions with Allison for personal healings and help to grow your unique business as a teaching artist through Embodied Dance!
*(Additional private sessions available)
​
Each month you will cultivate your individual magic and learn how to work with dancers and movers that uses embodied wisdom to deeply heal themselves and/or the audiences they perform for.
**************************
WHAT'S INCLUDED &
WHAT YOU RECEIVE
 WEEKLY GROUP CALLS for SIX MONTHS:
1st call of the month: Q and A, healings and clearings, personal support for where you are in the program or what you need for your life's journey.
2nd call of the month: Allison leads a dance experience, elements, archetypes, themed classes: EX- the "mother wound" "sacred rage" "clearing abundance blocks"
3rd call of the month: Practice teaching Lab and business building support. We do a quick check in and clearing before allowing time for participants to lead elements of what they are developing in their work; receive feedback and improve confidence.
*************************
CERTIFICATION REQUIREMENTS:
1.Three page description on your programs. niche and the specific processes you use.
2 Three live teaching practices inside the course. (Video recordings also accepted).


3. Must attend 15 of the 18 live group calls.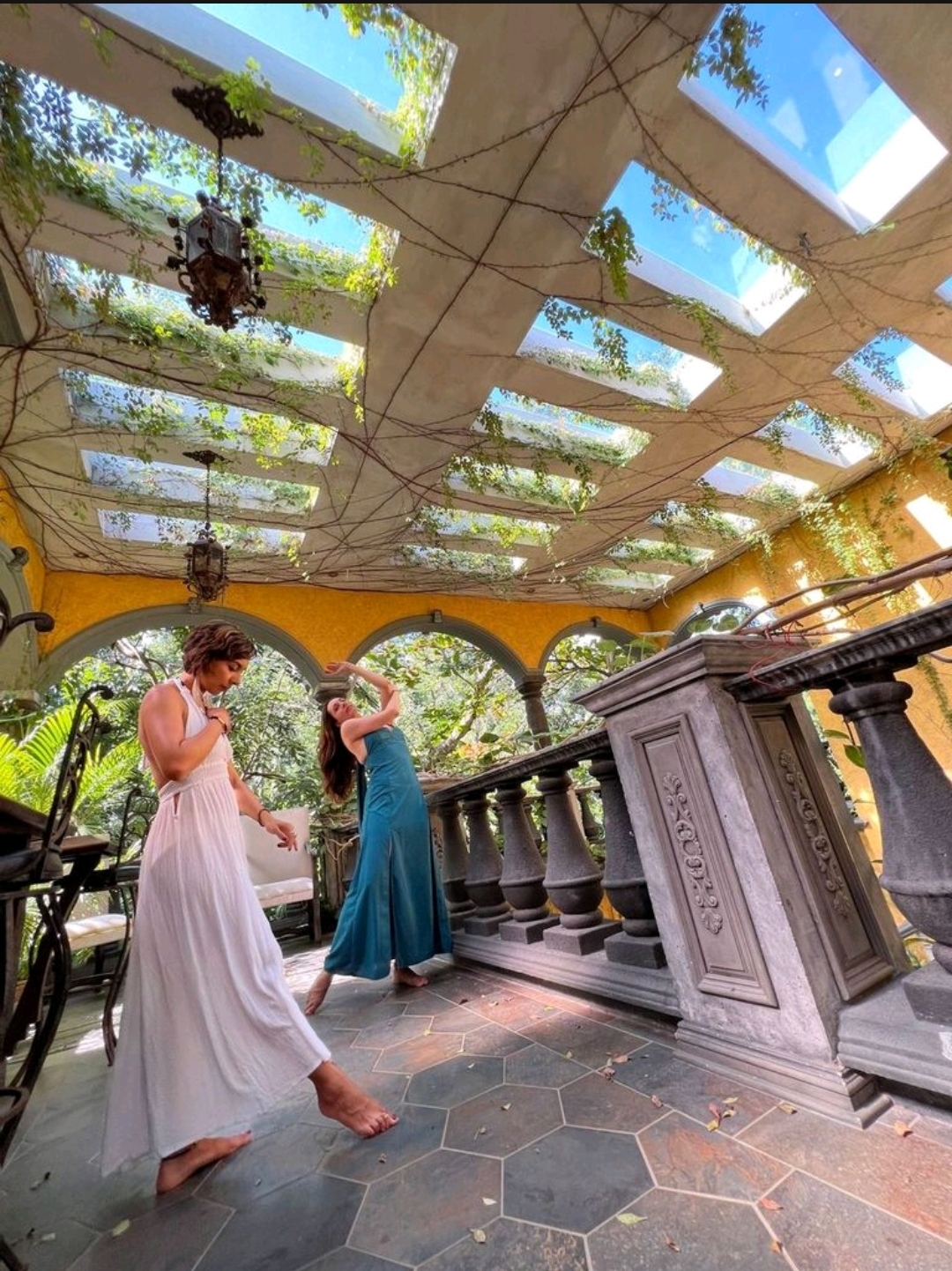 MODULES 




(Each module has an average of four key teaching videos with accompanying manual)






Module 1:
Energy Systems and Embodied Anatomy


Module 2:
Energy Systems and Embodied Anatomy Cont'd


Module 3:
Body Language and Limiting Beliefs (Collard Method)


Module 4: Communication and Student Learning Styles (Influences from Simonson Method and Collard Method) Teacher/student relationship, creating safe space.


Module 5:
Creating Personal Choreographies for groups and individuals *(Embodied Dance signature method)


Module 6:
Impact to Income course.
This is a full course on its own, included in the training to give you everything you need in crafting your niche, offers and marketing in a soul aligned way.
This is to support you to start making a lucrative income from this work.



**




BONUS MODULE 1:
Video library of warmups and class building exercises.




BONUS MODULE 2:
Embodied Leadership: Your style, genre, Intuitive teaching, Practice teaching your unique medicine and forms.


BONUS Module 3:
World Dance Forms and Dance as Personal Power throughout history.


BONUS Module 4:
Themes and Music to enhance your work. Sound healing. Performance projects.            
Gesture and Meaning: the work of Francois Delsarte






If you're reading this, you are already ahead of the curve.


Never was it more doable than to create a sustainable business doing work you love. Entrepreneurship isn't for all, as the skill set it requires is unique.
There are many pieces to it and I walk you through each phase of the process. I AM INVESTED IN YOUR SUCCESS.
I support you to build a lucrative income from your unique medicine working with dance as a healing art.
You have what it takes if:
You have a unique perspective on the world and listen to your own soul
You can become comfortable with change
You welcome visions and new possibilities.
You are willing to look at what's in the way of your path and compassionately release it.
You are self motivated and thrive with the right support and inspiration.
You feel a deep soul calling to be a change maker and know the time is NOW!




Three years ago, I left my job as a college professor and was able to double my income creating programs and working with clients online… and I'd love to show you how to do the same.
It's the difference between a career and a MISSION.
You may enjoy 5 Rhythms, ecstatic or intuitive dancing, but may not be able to make a living from it unless you have created a very specific and unique niche.
You may be interested in a dance therapy degree, but the paperwork and hospital atmosphere may get in the way of your true calling and enjoyment.
Embodied Dance is a combination of entrepreneurial teachings, personal growth and foundational aspects of coaching through somatic movement
(that almost NO one teaches, but make or break your success).
I offer you all the skills I've used to build a lucrative income doing this work.
I also support you to put your original mark on it by drawing out your unique gifts and experiences that will make this the most satisfying work you've ever pursued.

The Embodied Dance Teacher Training Certification is for the highly sensitive, quiet rebels of the dance world who have always wished there was a more holistic approach to dance training and performance, but don't know how to piece it all together.



TESTIMONIALS:
"It's not only a training, it's not only a course.
It's a deep transformative process with a 1:1 support of Allison, which is invaluable.
You receive information and experiences of such different techniques (you might have never heard of) which has a massive impact on your attitude of being a dance teacher.
As you understand your own inner processes deeper and apply the new tools you've learned, you will be able to provide dramatically different qualities for your dance students.
Even if you are only considering starting this career- as I did at the beginning – you will be able to take the quantum leap of offering your classes – as I did – with proper skills and from the bottom of your heart.
(Oh… and not to forget: the weekly encounters with our group are really one of the highlight points of my week…)"
Agnes, Hungary


****


"
I was drawn to Allison's bright, empowering energy and decided to join her program because I felt a strong resonance with her articulations on the world & and what is needed from healers & creatives. 
I felt called to share my work in a new way and was craving support & guidance to get it going. 
What I enjoyed most about working with Allison was her precisely intuitive understanding of what to guide me through, always knowing exactly what I needed.
She guided me to discovering the answers within myself, helping me understand the worth of my work & how to repeatedly affirm that to myself, believing it from a deep instinctual place. 
 There were so many times when I would wonder "how did we get here?" after a deep meditative journey into what had me stuck or was holding me back. We would drop in so deep & I would encounter elements of myself that completely surprised me. 
 This work made me aware that a feeling can be traced to a specific place in the body which can be traced even further to a memory or a story embedded from long ago. 
 I would recommend working with Allison if you are feeling stuck, confused, or uncertain on how to best offer your work to the world. 
 She will help you develop a concrete plan while energetically clearing blocks along the way. 
I have now successfully birthed and launched lucrative programs of my deepest soul calling due to the support I received.
Allison is absolutely incredible & can help you create and launch your work in miraculous ways.
-Morgan, NY
****


"I've just completed the Embodied Teacher Training with Allison! I've always loved dance, but had no idea of the power and somatic release through the expression of dance I'd have entering into this training program.
It's not just a training, it's a healing, a re-claiming, an initiation of stepping into your power and fullest expression of self.


When Allison and I had our first intro call, I knew right then there I had to work with her; we had an immediate connection.
Not only does she embody a beautiful grounded, energy, she has the ability to make you feel right at home in her space. 


It was clear this was something my soul had been calling for a long time. The curriculum is wonderful and the weekly connection calls were the most potent for my learning and growth.
Allison holds so much wisdom in the body and I've learned so much about myself, and the way I move that has allowed me to dive deeper into my body and it's needs.
Because of this sacred container, I have been able to step out of my comfort zones on many levels.
I never thought about going into a teaching role and with Allison's support, guidance, and training she has made me so much more confident in my gifts.
I am so happy I found Allison and this training program. I have transformed in so many ways on a personal and professional level.
Thank you from the bottom of my heart, this community is the most loving and safest I have experienced"!
-G.Y. California








The Investment for the Certification program


including
45 teaching lessons
the Impact to Income course,
6 months of group calls,
3 privates sessions with Allison
(valued at 10k)


Payment options start at
$4900.


Payment plans and additional private sessions available.

***********
Apply for the training
Click the link below to schedule a time to connect, ask questions and recieve support for your current ideas.